Dominating Local Markets: How Frenik's Local Search Solutions Propel Franchise Growth
SEO
Introduction
In today's highly competitive business landscape, where every advantage counts, local markets play a pivotal role in the success of franchises. As consumers increasingly rely on local search to discover products and services right in their neighborhoods, it has become crucial for franchises to prioritize their presence within their communities. By leveraging targeted local search strategies, franchises can not only establish a strong foothold but also gain a competitive edge in their respective markets. In this comprehensive blog post, we will delve into the intricacies of Frenik Marketing Group's specialized local search solutions. These innovative strategies will empower franchises to not only dominate their local markets but also achieve remarkable growth and establish themselves as industry leaders. Join us as we explore the limitless possibilities and immense potential that local search holds for franchises in today's dynamic business landscape.
I. Understanding the Power of Local Search
Local search, also known as location-based search, is the practice of utilizing search engines and online directories to discover businesses, products, or services within a precise geographic area. This targeted approach to finding what you need has become increasingly popular in recent years, particularly with the rise of mobile devices and location-based technologies.
For franchises, local search takes on even greater significance as it directly influences consumer behavior and purchasing decisions. Numerous statistics and compelling case studies have revealed that a vast majority of consumers rely on local search to inform their buying choices. Whether it's searching for the closest coffee shop, a nearby gym, or a trusted service provider, people are turning to local search to find what they need conveniently and efficiently.
Given the undeniable impact of local search on consumer behavior, it is clear that a robust and well-executed local search strategy is paramount for franchise success. Franchises that invest in optimizing their online presence for local search are better positioned to attract and engage with their target audience, ultimately driving more foot traffic and boosting sales. By leveraging the power of local search, franchises can effectively connect with potential customers in their specific geographic areas and establish a strong competitive advantage in today's digital landscape.
II. Unveiling Frenik's Local Search Solutions
Frenik Marketing Group, a highly reputable and industry-leading full-service marketing agency, is proud to offer an extensive of local search services specifically crafted to cater to the distinct requirements of franchises. With an unwavering commitment to excellence, our comprehensive solutions are meticulously designed to not only enhance local visibility but also attract highly targeted customers, resulting in substantial growth and success for franchise businesses. Now, let's delve into the exceptional strategies and techniques that set Frenik's local search services apart from the competition, ensuring unrivaled results and maximum ROI for our esteemed clients.
Local Keyword Optimization
Frenik's team of experts meticulously conducts in-depth keyword research, employing advanced techniques to identify a comprehensive list of relevant and high-performing local keywords. These carefully curated keywords are strategically integrated into the franchise's website and content, optimizing every aspect to ensure maximum visibility in local search results. By leveraging this powerful SEO strategy, the business not only attains higher rankings but also significantly enhances its presence, effectively reaching and captivating potential customers in the local market.
Google My Business Optimization
Google My Business (GMB) is a vital and indispensable component of achieving local search success. At Frenik, we specialize in optimizing the franchise's GMB listing to ensure that accurate and up-to-date information is prominently displayed to potential customers. By leveraging our expertise in GMB optimization, we significantly enhance the chances of your business appearing in Google's highly coveted Local Pack and Map results. With our meticulous attention to detail and strategic approach, we help businesses maximize their online visibility and drive more traffic to their physical locations.
Local Directory Listings
Frenik is a comprehensive solution that not only ensures accurate and consistent information for your franchise but also helps establish trust with search engines and local customers. By listing your franchise across various online directories and platforms, Frenik enhances your visibility in local search results, making it easier for potential customers to find and connect with your business. With Frenik, you can effectively manage your franchise's online presence and drive more targeted traffic to your locations, ultimately leading to increased brand recognition and growth.
Location-Based Landing Pages
To effectively cater to multiple franchise locations, Frenik employs a strategic approach by creating location-based landing pages. With meticulous optimization techniques, these pages are specifically crafted to target and engage the unique local audiences of each location. By adopting this tailored approach, the franchise significantly enhances its visibility in local searches, thereby maximizing its chances of attracting and capturing the attention of potential customers in each respective area.
III. The Benefits of Dominating Local Markets
Dominating local markets through Frenik's local search solutions offers several key benefits for franchises:
One of the key benefits of optimizing local search presence is the increased foot traffic and local visibility that franchises can enjoy. By implementing effective local search strategies, franchises can attract a larger number of customers to their physical locations, ultimately boosting brand awareness among the local audience. This heightened local visibility not only helps in attracting new customers but also strengthens the connection with the existing ones, fostering a sense of community and loyalty. With a well-optimized local search presence, franchises can establish themselves as prominent players in their respective markets, gaining a competitive edge and driving sustainable growth.


Enhanced Local Customer Engagement and Loyalty are crucial for the long-term success of a franchise. By actively engaging local customers through personalized and relevant content, as well as exclusive promotions, a strong sense of loyalty is fostered. This not only encourages repeat business but also creates a lasting connection between the franchise and its customers, ultimately leading to sustainable growth and success in the local market.

One of the advantages of having a strong local search strategy is that franchises can effectively compete against both local competitors and larger national brands. By leveraging local search tactics, such as optimizing online listings, targeting local keywords, and engaging with the local community, franchises can establish a strong presence in their target markets and attract more customers. This not only helps them compete better against local competitors but also enables them to challenge and outperform larger national brands in terms of visibility and customer acquisition.
IV. How Frenik Tailors Local Search for Franchise Success
At Frenik, we understand that every franchise faces its own set of distinctive challenges and presents unique opportunities within their local markets. That's why we believe in taking a customized and tailored approach to cater to the specific needs and goals of each franchise. We work closely with our clients, leveraging data analytics to refine and optimize local search strategies, ensuring maximum impact and success in their target markets. With our comprehensive and detail-oriented approach, we are committed to delivering exceptional results and helping our clients thrive in their respective industries.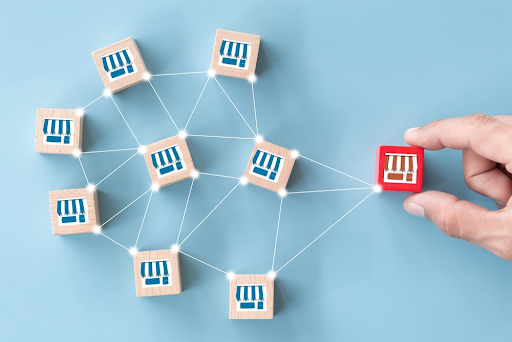 V. Leveraging Local Search for Franchise Expansion
Local search insights offer an abundance of valuable data that can greatly benefit franchises in their quest for expansion. Frenik, a trusted partner in this endeavor, specializes in helping franchises identify and evaluate potential markets for new locations. By providing strategic guidance and in-depth analysis, Frenik empowers franchises to make well-informed decisions when it comes to expanding their business. Furthermore, in an increasingly competitive landscape, maintaining a consistent local branding across multiple locations becomes pivotal in creating a cohesive and impactful brand image that resonates with customers and fosters brand loyalty.
VI. Tips for Franchises to Get Started with Frenik's Local Search Solutions
To start dominating their local markets with Frenik's expertise, franchises should:
Identify Local Marketing Goals and Objectives: It is crucial to have a comprehensive understanding of what businesses aim to achieve through local search.

This includes gaining visibility in the local market, attracting a larger customer base, and establishing a strong online presence within the community. By setting clear, measurable objectives, businesses can effectively track their progress and optimize their local marketing strategies to drive success in their target markets.

Benefit from the expertise of Frenik by collaborating with them to develop a tailored local search plan specifically designed to align with your unique business goals.

By working closely together, you can create a customized strategy that maximizes your online visibility and drives targeted traffic to your local business. This collaborative approach ensures that every aspect of your local search efforts is thoroughly optimized, resulting in increased brand exposure, customer engagement, and ultimately, business growth.

To effectively navigate the ever-changing landscape of local search, it is crucial to understand the role of ongoing optimization and monitoring. By continuously monitoring and fine-tuning your local search efforts, you can stay one step ahead of the competition and ensure that your business remains prominent in search results. This ongoing process allows you to adapt to evolving trends, consumer behaviors, and search engine algorithms, ultimately maximizing your online visibility and driving more targeted traffic to your business. So, make ongoing optimization and monitoring a priority in your local search strategy to maintain a competitive edge in today's dynamic digital landscape.

VII. Conclusion
In conclusion, local search has proven to be a game-changer for franchises seeking exponential growth and unparalleled success in their communities. With Frenik Marketing Group's exceptional local search solutions, franchises gain access to a comprehensive suite of tools and industry expertise that empower them to not only dominate their local markets but also foster lasting connections with their customers.
Through meticulous market analysis and strategic optimization techniques, Frenik Marketing Group ensures that franchises are well-positioned to drive continuous growth and establish a formidable presence within their target communities. With a demonstrated track record of success, Frenik is passionately committed to assisting franchises in achieving their marketing goals and propelling their businesses to unprecedented heights of prosperity.
Now is the time to take decisive action and seize the opportunity to collaborate with Frenik Marketing Group. By embracing their cutting-edge local search solutions, your franchise will emerge as the unrivaled leader in the local market, captivating the hearts and minds of customers far and wide. Together, let's unlock the true potential of your franchise and pave the way for unparalleled success!