The Advertising War: Digital finally triumphs over traditional and print
Frenik Labs' Blog: Industry News and Updates
Recent Trends and News on Digital Marketing
It was bound to happen sooner or later. We all saw it coming—and now it's official. Digital advertising will surpass traditional and print advertising this year.
2019 is rolling out some big changes because this means, for the first time, money spent on digital advertising will beat money spent on traditional advertising. The focus is now on avenues like Google and Facebook over newspapers, TV and radio.
Global Marketing Media
According to eMarketer:
This year marketers expect to spend $129 billion on digital advertising compared to the $109 billion they will spend on traditional advertising.
Digital will grow 19 percent this year, totaling 54 percent of the U.S.'s advertising spending. Within digital, mobile advertising will account for over two-thirds of the market at $86 billion.
Google and Facebook are doing the best, but Amazon is moving fast to overtake them. Amazon is set to grow over 50 percent this year, bringing it up to a total of 8.8 percent in the digital advertising realm.
That's not nearly enough to reach the two behemoths in first and second place, though. Google holds 37.2 percent in 2019 and Facebook follows behind it with 22.1 percent.
This year Google will actually see its market share drop and Facebook will see a minimal increase, which is why Amazon has the potential to eventually take control of the market.
With that being said, there's a reason why these two have such a large percent of the market. People are familiar with them—both advertisers and consumers. It's already established that they work. Even multiple controversies and Congressional subpoenas haven't done much to detract from their overall advertising success, which further enforces their power and influence in today's society.
As Amazon joins Google and Facebook at the top, the three will combine to hold 68 percent of total digital advertising.
The duopoly has officially fallen to make way for three top contenders.
And Amazon isn't slowing down. So, what's driving marketers to the retail giant?
The promise of increased sales and brand awareness, for one. Amazon can also offer transaction histories and customer data along with demographics, as well as ad diversification. E-commerce is growing and marketers are taking notice.
CNBC reported that "some advertisers are moving more than half of the budget they normally spend with Google search to Amazon ads instead, amounting to hundreds of millions of dollars, according to execs at multiple media agencies."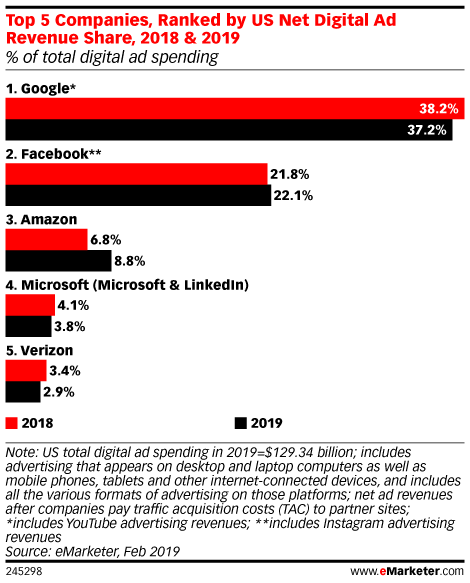 Meanwhile, traditional is dropping fast. Yellow Pages will see a 19 percent drop and newspapers and magazines will experience an almost 18 percent drop.
The gap between the two is only going to grow. And it's predicted that by 2023, digital advertising will make up over two-thirds of total media spending.
Although this reversal was anticipated, the fact that digital was half the size of traditional advertising only four years ago shows how rapidly the tides have turned as this technology wave has gained momentum.
And now, traditional advertising—the king of advertising for so long—has been dethroned. We have officially moved into marketing for the digital age.