Big Brand Activations Stole the Show at SXSW 2019
Frenik Labs' Blog: Industry News and Updates
Tapping into a Pool of Creative People at SXSW 2019
South by Southwest held its annual conference and festivals on March 8 to 17 in Austin, Texas. Each year a community of forward-thinking people come together to collaborate, discover new business opportunities, and unleash their full networking potential.
With the majority of attendees being young professionals, SXSW has branded itself as "a tool for creative people to develop their careers by bringing together people from around the globe to meet, learn and share ideas."
SXSW was born in 1987 as a simple discussion on what to expect for the future of the entertainment and media industries. In the 30+ years since then, SXSW has gone from 700 attendees in its first year to 432,500 attendees in 2018, with 75,098 of those people attending the conferences.
The 2019 event saw thousands upon thousands of people making their way to Austin.
By promising inclusive discussions and days of thought-provoking events, SXSW achieved what it set out to do. Music festivals as well as film, gaming and comedy festivals were interspersed throughout the busy week and a half, along with conferences, exhibitions and trade shows.
SXSW offered something for everyone and allowed creative professionals to expand on current ideas while also discovering new and innovative opportunities.
Along those same lines, SXSW has found that the most prominent social app used during the conferences and festivals is Facebook, followed closely by Instagram, while LinkedIn and Twitter vie for third place in a tight race. Most of the media coverage for SXSW was also online.
The goal for these brands is engagement and SXSW has provided a perfect opportunity for brands to actively interact with their audience.
Developing the link between a brand and a person is a crucial step in continuing to build and grow the relationship. The activations at SXSW enhanced the conversation between these two, helping the attending brands cultivate loyalty for their product or service.
Brands want to show people what they can expect, why they should be interested in what's upcoming, and how they can benefit from it.
Activations are the key.
SXSW has a successful history as the platform a brand can use to launch an enduring connection with their audience. This has led to SXSW's reputation as a place to initiate brand activations with promising performances and widespread turnouts.
This year's event was no different.
For 10 days, Austin was a hub of creativity in entertainment, technology, film and music. With all of that, it's no wonder brands see this as a prime location to participate in activations.
Here are five of the brands that captured attendees' attention with their experiential activations at SXSW 2019.
Bumble's The Hive
Bumble's Hive took over local coffee shop Jo's Coffee, giving out complimentary coffee and free breakfast tacos. Bumble had onsite experts ready with profile tips, as well as fun, personalized programming for anyone looking for friendship, romantic connections or business networking.
Comcast/NBCUniversal House
With virtual reality, gaming opportunities, and influential panelists, Comcast NBCUniversal created an experience for everyone. Attendees could listen to a conversation with Jordan Peele, Lupita Nyong'o and Winston Duke of the upcoming, horror/thriller "Us", tour the "How to Train Your Dragon" world through VR, cuddle puppies, or make their way back to "The Office" and sit at Michael Scott's very own desk, complete with a Dundie award and World's Best Boss mug.
Michelob Ultra's SXSW Meditation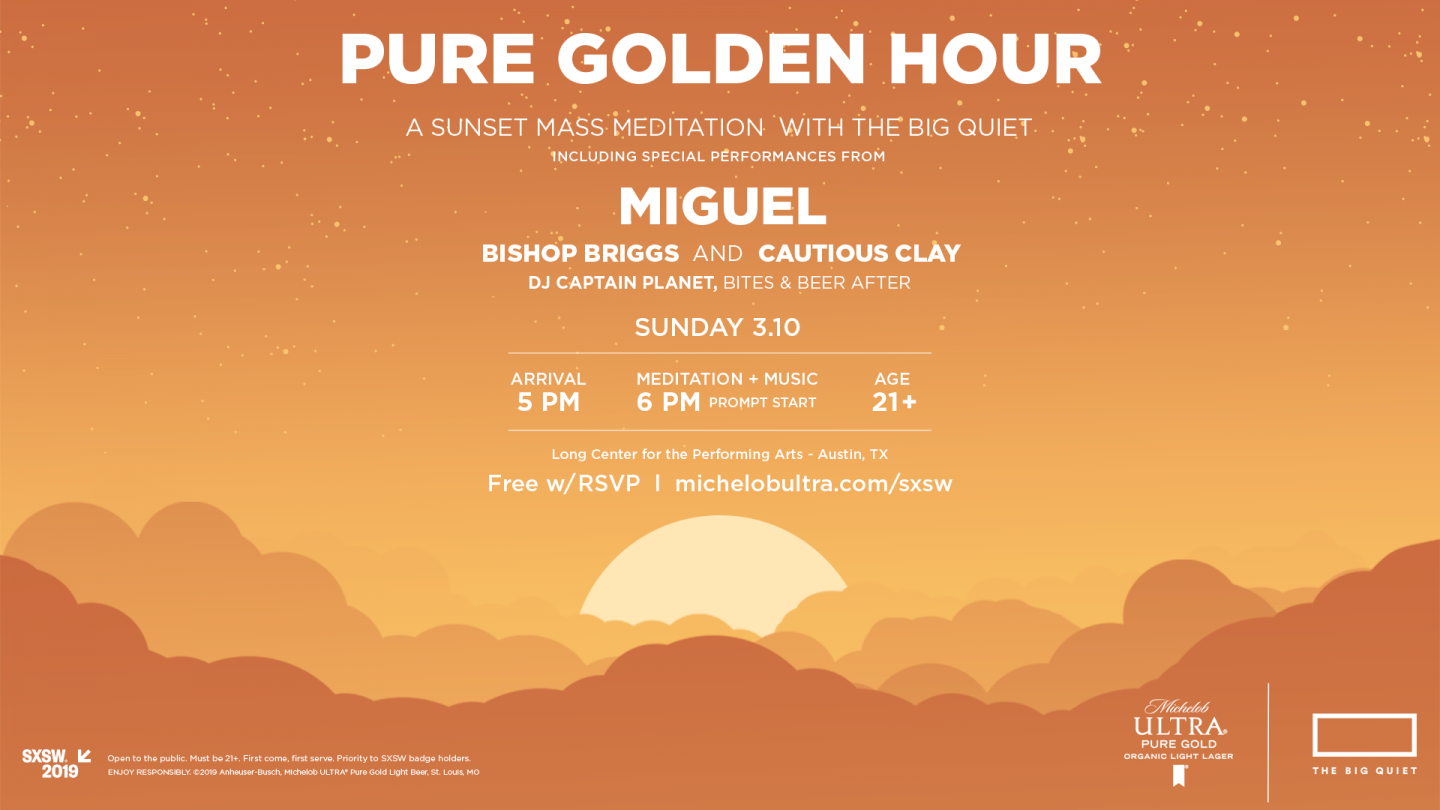 Michelob Ultra partnered with the Big Quiet to provide attendees a much needed break during the hectic schedule of SXSW events. The sunset mass-meditation highlighted their organic Pure Gold beer and its branded focus on wellness and mindfulness. Performances by Miguel, Bishop Briggs and Cautious Clay closed out the evening.
Uber Eats House
For hungry festival goers, Uber Eats had a solution. The brand wanted to make it easier to eat, so they planned surprise food drops in busy areas around Austin and organized a walk-up window with food from favorite local restaurants like Kesos Tacos and East Side King. Along with all that, artists Khalid, Virgil Abloh and Billie Eilish were paired with restaurants to create original musical experiences.
ADP and Wired's "Breaking Barriers"
ADP and Wired magazine created an exhibit that gave attendees the opportunity to relieve some stress and smash perceived barriers in their personal workplaces. Glass ceilings, wall clocks, piggy banks—nothing was safe. Real-life business hurdles, like pay inequality or work/life balance challenges, were actualized and consequently demolished.
This year's conferences, festivals, activations, special events and exhibitions succeeded in creating actionable excitement and buzz around participating brands.
"FOR COMPANIES, ACTIVATIONS CAN BE THE LAUNCHPAD THAT CONNECTS THEM TO AUDIENCES."
And with another successful 10 days full of entertainment, conversation and collaboration finished, be sure to check out next year's SXSW to experience it for yourself.